Huh. I'm posting this here, Drak, because I think it relates directly to what you just said.
Editorial Cartoonist Critical Of Trump Fired From Pittsburgh Newspaper
Rob Rogers had been with the Pittsburgh Post-Gazette for 25 years.
https://www.huffingtonpost.com/entry/ca ... a52779908d
A veteran editorial cartoonist for the Pittsburgh Post-Gazette was fired Thursday after he and the newspaper's management clashed over some sketches critical of President Donald Trump.Rob Rogers, a Pulitzer Prize finalist who had been with the Post-Gazette for 25 years, announced his own ouster on Twitter. Earlier this month, he'd revealed that he was working through "unresolved" issues with the paper's leaders over certain cartoons that they'd declined to publish.
"I knew in March" ― when he said the paper first started rejecting his cartoon drafts and ideas without explanation ― "that we were headed for some kind of a compromise or a showdown," Rogers told HuffPost. "I didn't know what it was going to be, but it turns out it was a showdown."
The Thursday meeting in which he was fired, Rogers said, was the last of several he'd had with the human resources department since the paper's editorial director, Keith Burris, began cracking down on his cartoons.
Since March, the Post-Gazette had axed 19 of his cartoon drafts and proposals without explanation, Rogers said. Over the course of a typical year, he noted, only a couple of his submissions would be rejected.
Rogers' concerns mounted when he said the paper rejected six of his ideas in a row starting on Memorial Day, including one that depicted Trump laying an R.I.P. wreath before a tomb reading "Truth, Honor, Rule of Law" and another showing the president separating undocumented immigrant children from their parents.Rogers estimated that about 90 percent of the rejected cartoons were Trump-related. Some others that were spiked involved issues linked to the president, such as drawings commenting on the cancellation of "Roseanne" or NFL protests during the national anthem.
[snip]
A broader push for less negative Trump coverage in the paper has been linked to John Block, its conservative publisher, and to Burris, the editorial director.
Around the time that Trump announced his candidacy for president, Rogers said, Block began leaning on the paper's editorial section to publish more Trump-friendly pieces.
[snip][end]
It's an at-will employment country. I get it. He can be fired for any reason.
I'm just pointing out that the reason clearly given and stated by the paper's management was that his cartoons were 'too anti-Trump'.
BTW, I'm pretty sure his toons have been posted here at RFL, maybe even by me.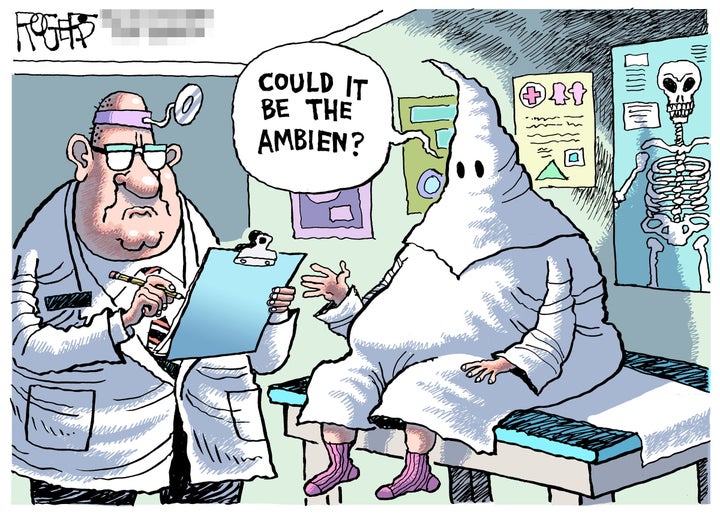 Yes, he can continue to be syndicated elsewhere.