Whatever else is going on, as I said, Putin knows how to play Trump like a harp.
PUTIN CAJOLES TRUMP BY SHARING GRIEVANCES ABOUT 'FAKE NEWS' AND THE 'DEEP STATE:' REPORT
http://www.newsweek.com/putin-cajoles-t ... rt-1012899
President Vladimir Putin of Russia reportedly seeks to gain President Donald Trump's trust by echoing his grievances about "fake news" and the "deep state." White House officials told the Washington Post that in calls to the president, Putin echoes Trump's complaints that the news media and hostile officials in the U.S. security apparatus (dubbed the "deep state" by Trump officials) are trying to poison their relationship. The officials expressed concerns that in the calls Putin—a former KGB operative—is playing on Trump's inexperience, lack of detailed knowledge about issues, and favorite complaints. "It's not us," Putin has told Trump, one official summarized. "It's the subordinates fighting against our friendship."

A U.S. official added that the president rarely reads a briefing book of key issues prepared by aides ahead of meetings, and relies more on his conviction that he can achieve results through establishing rapport with world leaders.
[snip][end]
Got it? If not for that pesky, meddling free press and mythical "deep state," Vlad and Donnie could be ... so much better
fweinds
! It's those meanies who are ruining a beautiful friendship!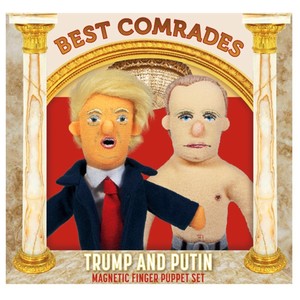 Wow, so KGB president Vladdy Putin, leader of American's most historic, sinister adversary, dislikes the American Media and American Intel Community as well? Then it really must be fake news and the deep state! Stop the presses everyone!.
Quote:
Officials voiced the concerns with Trump scheduled to meet Putin for the first one-on-one meeting between the leaders in Helsinki, Finland, on July 16.
Not really true. Trump and Putin met last year at G20 and supposedly had some alone time, if memory serves.
"These are the ones hurting you?" Putin asks of Trump, pointing to the press. "These are the ones. You're right about that," Trump responded.
Edit: Btw, the conversation with this picture is 100 percent legit.
What a bunch of hilarious and utterly ridiculous puppetry. How long does this puppet show last?
_________________
Getting it wrong to pwn the libs:
Quote:
The American people have once again rejected liberalism. So Much For the Blue Wave
Voting with hurt fees to pwn the libs:
Quote:
because of this board... it will be very hard for me to support a Democratic candidate.