Earth Movers Poised To Erect Border Barrier At Texas Butterfly Refuge
Huge barrier will seal off 70 percent of wildlife sanctuary closest to the Rio
https://www.huffingtonpost.com/entry/na ... 93b207949c
Construction equipment has moved into place to erect a looming border barrier in southern Texas in the middle of a butterfly refuge, whose operators are furious that their land has been seized and environmental regulations ignored.
The barrier is being erected along a levee of the Rio Grande in the border town of Mission.
The 18 feet of steel bollards on top of an 18-foot concrete wall will cut off 70 percent of the 100-acre National Butterfly Center closest to the river,
refuge executive director Marianna Trevino-Wright told HuffPost. The barrier will be two miles from the actual border, so gates will be built to allow Texans access from one part of America to another, she said.
"This has nothing to do with a levee, nothing to do with the environment," Wright said. "This is tactical. It's going to be guarded by paramilitary personnel."
Some 35,000 people a year visit the butterfly center, which has as many as 200 species of butterflies in a wildlife area that will be devastated by bulldozing and disrupted by vehicle traffic, bright lights, garbage and increased human activity, Wright complained. The wall will trap some animals on the river side during floods, and those on the other side away from water they need to survive.As construction equipment was unloaded Monday a group of about 35 local tribal members marched in protest, the San Antonio Express-News reported.
"I didn't expect it this soon," Juan Mancias, tribal chair of Carrizo Comecrudo, told the newspaper. "There's a constant uneasiness."
Congress approved money for the barrier in last year's federal budget, but it was pointedly not to be used to construct President Donald Trump's wall — only for fencing or levees. The final product, however, looks suspiciously similar to an image he has tweeted of a version of his imagined wall.
Federal law passed in the wake of 9/11 allows the Department of Homeland Security to bypass environmental regulations for national security — a right the Supreme Court has let stand in a related case.
The center launched a GoFundMe page, however, to continue a legal fight.
[snip]
Environmental waivers will also allow barrier construction to cut through the Santa Ana National Wildlife Refuge, Bentsen-Rio Grande Valley State Park and some private property.
Wright told HuffPost that a border official told her the Trump administration is beginning its barrier construction in Texas through environmental sites because it's the "path of least resistance."
That strategy won't immediately trigger outrage from large numbers of private property owners whose land will also be confiscated.
U.S. Customs and Border Protection could not immediately be reached for comment. The agency claims on its website, however, that's it's "committed to environmental and cultural stewardship while performing our core missions of border security."
Department of Interior officials, however, have largely ignored wildlife experts' concerns about the ecological devastation of a border wall.
[snip][end]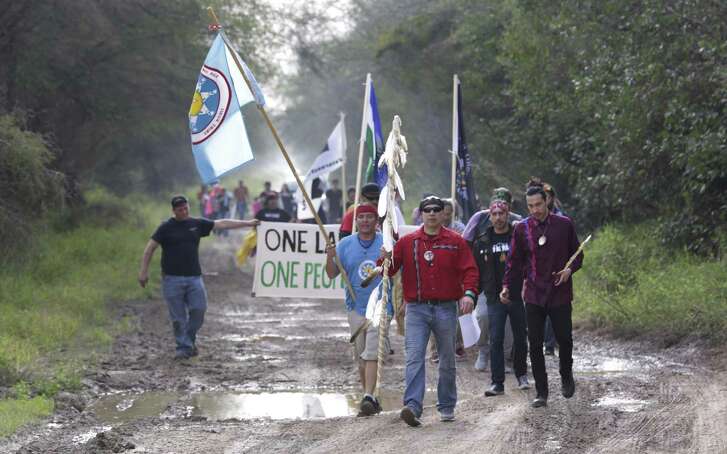 Hope none of them are "clergy".
I hope the poor fellow on the left holding on to the end of that banner doesn't have to wade through that huge puddle of water and all that mud.
Look up Mission, TX, Butterfly Center on Google maps.
The reason for this move becomes obvious. It's about the only place along the border where Trumper type old folks traveling on the freeway system could see a mile or so of the "Great Wall" from the comfort of their car.
Even so it is still going to be off in the distance about a mile, and it's at the end of I-2 where it becomes US 93.
That's just one of the walls Trump has his back up against. He want's to build this great beautiful wall that has to be built in a place which is hard for folks who want to see it to get where they can see it.
Maybe Trump thinks those butterflies flying around the ugly wall will make the wall more beautiful. That's one of the other walls Trump has his back up against, walls are not beautiful things.
That might work butterflies flying around make my town, Butterfly, CA, more beautiful.