However you mentioned that policy should not take more than necessary from the poor.

Yes, I believe in progressive taxation, aka, the poor should pay little to none, the middle class a little bit, and the wealthy a lot. That's what that means.
When Mitt Romney complained that the poorest people (so called "47%") in this country don't pay taxes ... well, first off, they DO (they pay payroll taxes, sometimes state and property taxes, even if their federal income tax is zero/refund) ... and secondly in a fair, progressive system ... that's the way it
should
be. But that stat is off and he doesn't mention who it covers, like sick people. Do we really want to squeeze sick people or unemployed people for more taxes?
I don't think you can solve inequality through taxation directly. Nah, there's a lot of stuff to be done, most of it focusing on equality of opportunity. Maybe some wage restructuring. Oh and properly funding higher education.
Quote:
As I taxpayer, I should be able to ask the same question?

Of course. By law, the government publishes its federal discretionary budget every year. They have to.
Now here's the deal. You and I will go through it and we may hate different stuff.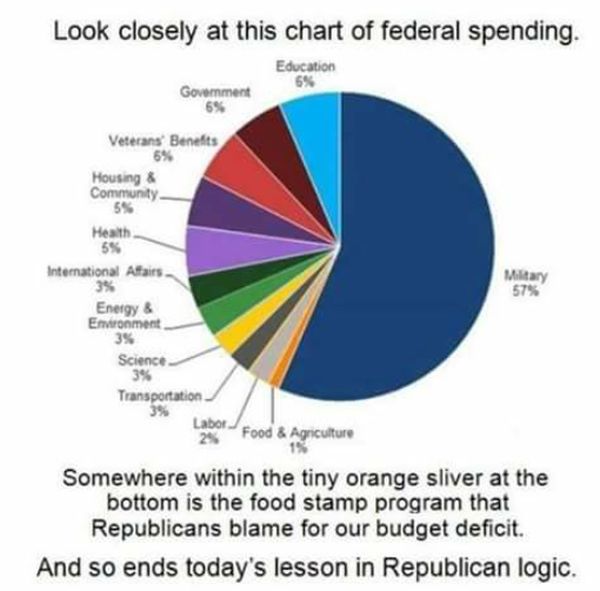 Am I upset at that tiny orange sliver, a fraction of which goes to food stamps?
Nah, to me I'm far more disgusted at that big ass 57% dark blue slice that goes to the military. Now don't get me wrong. I know we need a military. It's just that we spend a ridiculous amount of wasteful money on it and I hate government waste. That part of the pie is begging for trimming.
After we trim the big dark blue waste of space, it wouldn't bother me if the little orange sliver got a little bigger.