From the article cited above:
Kucinich,
who spent some of his time away from elected office serving as a Fox News contributor, is a rare politician who is now occupying that sweet spot where Sandersism meets elements of Trumpism
.
[snip][end]
I do not like that sweet spot that author likes. That "sweet spot" fills me with sickness. Where I liked Sanders the most was at these moments:
That is, when he was telling the truth about Trump, and why right populism and left populism do not meet.
Back to Dennis:
Amended ethics filing shows Dennis Kucinich was paid $20k by pro-Syrian government group
http://www.cleveland.com/open/index.ssf ... ws_de.html
CLEVELAND, Ohio - After initially not disclosing who paid him to give speeches in 2017, former U.S. Rep. Dennis Kucinich filed an amended ethics disclosure showing he was paid $20,000 by a group sympathetic to the Syrian government.
Syria's President Bashar Assad has been accused by multiple intelligence agencies of using chemical weapons on his own people in the long-running Syrian Civil War.
The revelation comes when Kucinich has been dogged by his connection to Assad, whom he met with in 2017, in the gubernatorial race. Kucinich, a longtime critic of American involvement with foreign conflict, has questioned whether Assad used chemical weapons.
Kucinich's ethics filing shows a payment of $20,000 from the Association for Investment in Popular Action Committees. Paul LaRudee, treasurer for the organization, described the group as an umbrella nonprofit for other nonprofit organizations.
Among those is the Syria Solidarity Movement, which LaRudee said provided funding for Kucinich to attend a conference hosted by the European Centre for the Study of Extremism in London on April 5-6, 2017.
LaRudee described the group as a human rights organization, but the group's website includes multiple posts supportive of the Syrian government.
[snip]
The Association for Investment in Popular Action Committees is headed up by LaRudee and Kamal Obeid. Obeid said he was a member of Architects and Engineers for 9/11 Truth.

The Architects and Engineers for 9/11 Truth is a truther organization. Obeid has given talks claiming 7 World Trade Center's collapse was a controlled demolition.
[snip][end]
https://oaklandsocialist.com/2017/03/27 ... -movement/
Syria Solidarity Steering Committee
On the SSM steering committee is Susan Dirgham, who in turn is linked with the Catholic fundamentalist Mother Agnes Mariam. There is Eva Bartlett, open mouthpiece for the reactionary, chauvinist Putin regime and a proven liar. There is Paul Larudee, former executive of the pro-capitalist Ford Foundation*. There is Sarah Flounders of the International Action Center (IAC) and United National Antiwar Coalition (UNAC) – both of which are wholly-owned subsidiaries of the Workers World Party.
In 2014, the IAC and UNAC participated in a conference in Russia organized by the Anti-Globalization Movement of Russia, which is a fascist-linked group if it is not outright fascist itself. Several European fascist groups were there as well as the racist and fascist US "Confederate League of the South." UNAC and IAC had no problem meeting with them and returned with glowing reports on the conference
. And SSM has no problem having their representative on their steering committee.
Rich Sterling
As for Rick Sterling as an individual, among other things, he is a regular contributor to "TheDuran.com". This is an openly pro-Putin web site that supports Putin's links with the racist, chauvinist Marine Le Pen in France
. One article, written by a representative of the Putin regime, assures Israel that they and the Russian regime "are friends". They also carry articles giving political cover to Trump! It's just the same as UNAC/IAC participation in that fascist-linked conference, and Sterling has no problems associating with these types either. A visit to Sterling's Facebook page makes clear that he, too, is a supporter of the repressive, chauvinist, neoliberal capitalist Putin regime.
And socialists have no problem giving the podium to this man!
SSM, TheDuran and Sterling, personally, deny the fact of crimes against humanity by Putin, Assad, Rouhani and Hezbollah. They use the same methods as the Holocaust deniers, who use denialism to defend the indefensible.
[snip][end]
While I may not be on the exact same point of the political spectrum as this Oakland socialist
, his criticisms are spot on.
heres what it says in the article concerning that spot
Quote:
..........."The Democratic Party lost its soul when they made book with corporate America and started taking corporate America's money, and it blurred the differences between the two parties," he says in the voice of a larger man, building in volume and pitch. "The American people caught on because the trade agreements that were made under Democratic administrations said they were going to protect jobs, the environment, workers' rights. None of those things happened. And so all across this state people got used to the idea that the Democrats would say one thing and do another and wouldn't deliver. And that opened the door for the candidate who won in 2016." Trump took Ohio by 8 points. "I can be the person who can bring those people who voted for Donald Trump back into the party," he declares.............
why should Mr. Kuccinich be disbelieved? he has spent his entire career on the correct side of working peoples issues in spite of the ridicule thrown at him for doing so. I can understand cordray feeling uncomfortable and needing something to take attention away from that but it looks kind of desperate.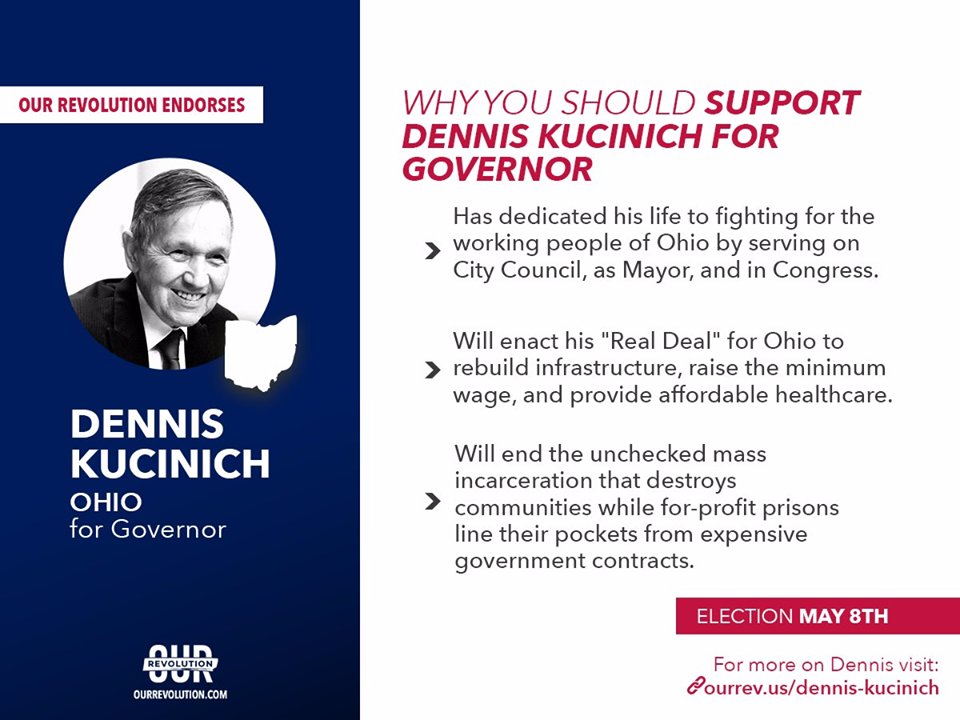 Dennis Kucinich statement on Cordray's smear attack
Quote:
Today, the Cordray campaign unleashed a series of attacks attempting to tie me to the Kremlin's payroll, to 911 deniers, and to the murder of innocents in the Middle East. These cowardly, hysterical and outrageously untrue statements reflect Cordray's panic that he and the State Capitol power-brokers might lose control of the Ohio Democratic Party and the statehouse.
Cordray will do anything to change the subject from his NRA "A" rating and his support for assault weapons on the streets of America.
The facts: Last year, I attended a peace conference in the UK, at the invitation of EuroCSE (The European Centre for the Study of Extremism, Cambridge
http://www.eurocse.org/
). It was paid for by a civil rights advocacy group in California.
Those in attendance included the Archbishop of Canterbury, the Rt. Rev. and Honorable Lord Dr. Eames, a member of the House of Lords and a leading international peace activist; Baroness Caroline Cox, of the House of Lords, an international humanitarian leader. Here is a YouTube video of other conference speakers:
The purpose of the conference was to bring peace and reconciliation to Syria, not to support the current regime. Here is my opening statement, which was abstracted for a panel discussion:...................
more@link