Since I am not very proficient at rolling the stuffed cabbage I found this recipe that I often make to rave reviews!!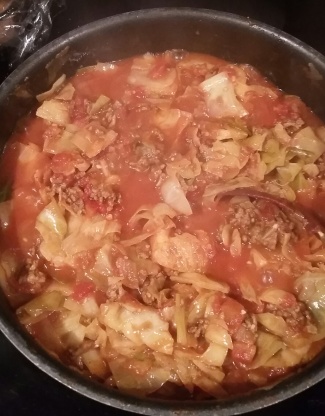 INGREDIENTS

SERVINGS 6-8
2 lbs lean ground beef
1 large onion, diced
1 garlic clove, minced
1 small cabbage, chopped
1 cup rice
2 (14 1/2 ounce) cans diced tomatoes
1 (8 ounce) can tomato sauce
1⁄2 cup water
1 teaspoon ground black pepper
1 teaspoon sea salt
Check Out Our Top One-Dish Meal Recipe
Check Out Our Top One-Dish Meal Recipe
DIRECTIONS

In a large skillet or dutch oven, brown the ground beef and onions. Drain.
Add the garlic and cook an additional minute.
Add remaining ingredients.
Bring to a boil, cover, reduce the heat and simmer about 25 minutes or until the cabbage is tender.